Home Page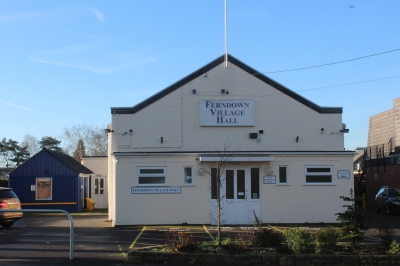 This warm and welcoming traditional Village Hall is home to many local clubs and groups of all ages and is used regularly for U3A classes, Badminton, Craft groups, Drama groups, Fitness classes, Musical groups, Lacemaking, Townswomen's Guild, choir practice, small band practice, Slimming World, Fitness League, Wessex Jitsu, Yoga, Cheer Leading and Church Groups to name but a few. We are always eager to embrace new ideas and new people bringing different activities to the hall so that we keep it vibrant and current.
We operate an efficient booking system but the hall is very popular and we always advise people to book as soon as possible. If you leave it you may lose it!
There is a large car park at the rear of the building which is operated by automatic number plate recognition and barrier. The car park barrier can be left open to accommodate your guests by prior arrangement.
The Meeting Room is used as a noisy room (i.e. small band practice) and for committees. There are facilities for making tea etc and it has its own toilet. This area will soon be refurbished with a small kitchen and new floor. It can accommodate up to 40 people seated and has disabled ramps should these be needed.
The Len Hawker Hall has its own kitchen with oven, hob and fridge. A stage large enough to accommodate a Theatre Company with Dressing Rooms, Toilets, stage lighting and sound. The hall itself can accommodate up to 240 people Standing or 120 seated and has seen many children's parties complete with Bouncy Castles. There are toilet facilities at the front of the hall including a Disabled Toilet.
There is a small parking area at the front of the hall with disabled parking and space for delivery to the kitchen door or front door.
The Studio is our latest room to come on line and will accommodate up to 50 people seated this room also has its facilities for making tea & coffee etc and it has its own toilet, and is particularly suited to dance and fitness activities as well as corporate meetings as it has a projector screen as well as the Wi-Fi that can be accessed around the building.